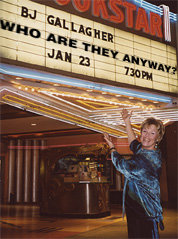 Speaking Topics
BJ Gallagher is available for keynote presentations at conferences and training seminars for groups and organizations of all types. She also provides consulting services for improving organizational effectiveness in the areas of change management, improving innovation and creativity, customer service, teambuilding, race relations, and "glass ceiling" issues.
BJ Gallagher will custom-tailor her presentations and seminars to the needs and interests of any group, with topics including:

IT'S NEVER TOO LATE TO BECOME WHAT YOU MIGHT HAVE BEEN
• Do you have gifts to share with the world?
• What are your passions and talents?
• Have you ever deferred your dream because it seemed impractical?
• Do you long to pick up that dream again?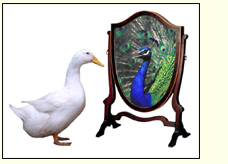 If your answer to any of these questions is "yes," then this lively, interactive workshop is the perfect thing to help you jump-start your personal and professional growth. Whether it's a new job, a change of career, a new financial goal, or a creative project you want to accomplish, you'll find the the tools, concepts, and strategies you need in this session.

THE POWER OF POSITIVE DOING
The Power of Positive DOING is a call to action. It gets participants fired up to take steps toward their hearts' desires – and guides them to make sure their steps are the right ones. Millions of people today are practicing the Law of Attraction and positive thinking, but still frustrated because their dreams aren't coming true. What's missing is ACTION. Dreams, affirmations, and vision boards are all wonderful, but at some point you have to take steps forward, get the ball rolling, and start laying the groundwork. The Power of Positive DOING will show you how.

WHY DON'T I DO THE THINGS I KNOW ARE GOOD FOR ME?
We all know what we need to do - eat right, exercise more, get plenty of rest, save our money, and make smart decisions in our own best interest. But instead, it seems, we take good care of everyone else, but neglect ourselves. Don't despair - it's not hopeless and you're not helpless. Sociologist and self-care expert BJ Gallagher shows you a variety of ways to put yourself first on your priority list - rather than last. After all, you can't give others what you don't have.
This workshop begins by exploring the most common reasons that people don't take good care of themselves. Once you understand the barriers to your self-care, you'll be ready to take steps to overcome them. You'll discover how small changes can have a BIG impact on the quality of your life. You can start to replace your poor self-care habits with good ones. And finally, you'll learn how to avoid the "quick fix" trap - and instead establish a high level of self-care for the long haul.
Simple, straightforward and effective, BJ Gallagher's tips, tools, and suggestions will guide you to a life you love - taking care of yourself AND your loved ones!

HOW TO MANAGE YOUR BOSS
AND OTHER IMPORTANT PEOPLE IN YOUR LIFE
Most people don't realize that management is a two-way street -- the same techniques that we use to "manage down" can be used to "manage up." People are people, whether they are bosses or employees, co-workers, friends or family members -- the same principles apply to managing our relationships with them. This entertaining presentation will include specific tips on motivation, communication, influence skills, and how to get other people to do what you want -- both in your professional life and your personal life.

ADDITIONAL PRESENTATION TOPICS:
MAKING THE MOST OF CHANGE
TEACHING PENGUINS TO FLY:
Cultivating Innovation and Creativity in Your Organization
HOW TO BE A BETTER BOSS
IMAGE AND SELF PROJECTION FOR WOMEN
LEADERSHIP SKILLS FOR WOMEN
Contact BJ at: Peacock Productions, 701 Danforth Drive, Los Angeles, CA, 90065
phone: (323)227-6205
cell: (323) 422-6522
email: bbjjgallagher@aol.com